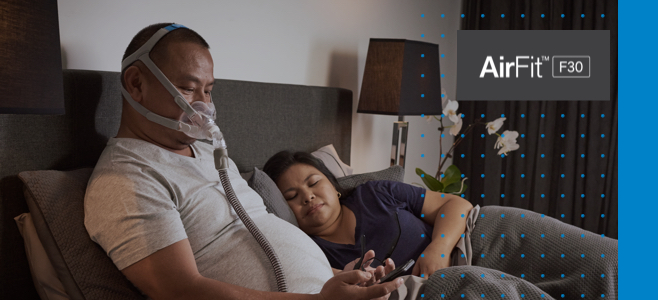 If you're using a CPAP machine every night to get a better-quality sleep, then you'll know how important the mask is to get the best results while keeping you comfortable.
One of the most common CPAP masks is the full face design, including masks like the ResMed AirFit F20 and AirTouch F20, because they fit snugly over the mouth and nose while being simple to use. Great if you find that you breathe through your mouth.
However, you may find the front section which covers the majority of your face a little intrusive or claustrophobic.
If you feel that your sleep is not as good as it could be because of this, or you're looking for a change, then the new ResMed AirFit F30™ mask may be a great option for you!
Finding the right mask for your needs
Everyone is unique, which means everyone has a different preference for their CPAP mask.
There's no need to simply put up with mask discomfort, especially when there are other alternatives available that may better suit you.
The new minimal contact mask - ResMed AirFit F30
Your CPAP mask is an essential part of your CPAP therapy each night, because it has to both deliver air to your passageways so you can breathe easier, and keep you feeling comfortable so as to not disrupt your sleep.
This is ResMed's first ever full face CPAP mask to feature a revolutionary "minimal contact" design. It offers the complete headgear set up, with less mask at the front.
Who is the ResMed AirFit F30 for?
The new AirFit F30 is designed to be less-intrusive so you can sleep better.
As the smallest and lightest full-face mask option in the ResMed range, it features a modern design, and is ideal for people who:
breathe through their mouth

wear glasses

have a nasal bridge sensitivity

sleep on their side

require a full mask but want less contact on their face.
The ResMed AirFit F30 can be your mask of choice every night, or just as a backup for when you have a cold or nasal congestion.
What does the ResMed AirFit F30 offer you?
The AirFit F30 comes with the best features of the previous F20 series masks (AirFit F20 and AirTouch F20), with additional improvements to help you feel more comfortable while you sleep.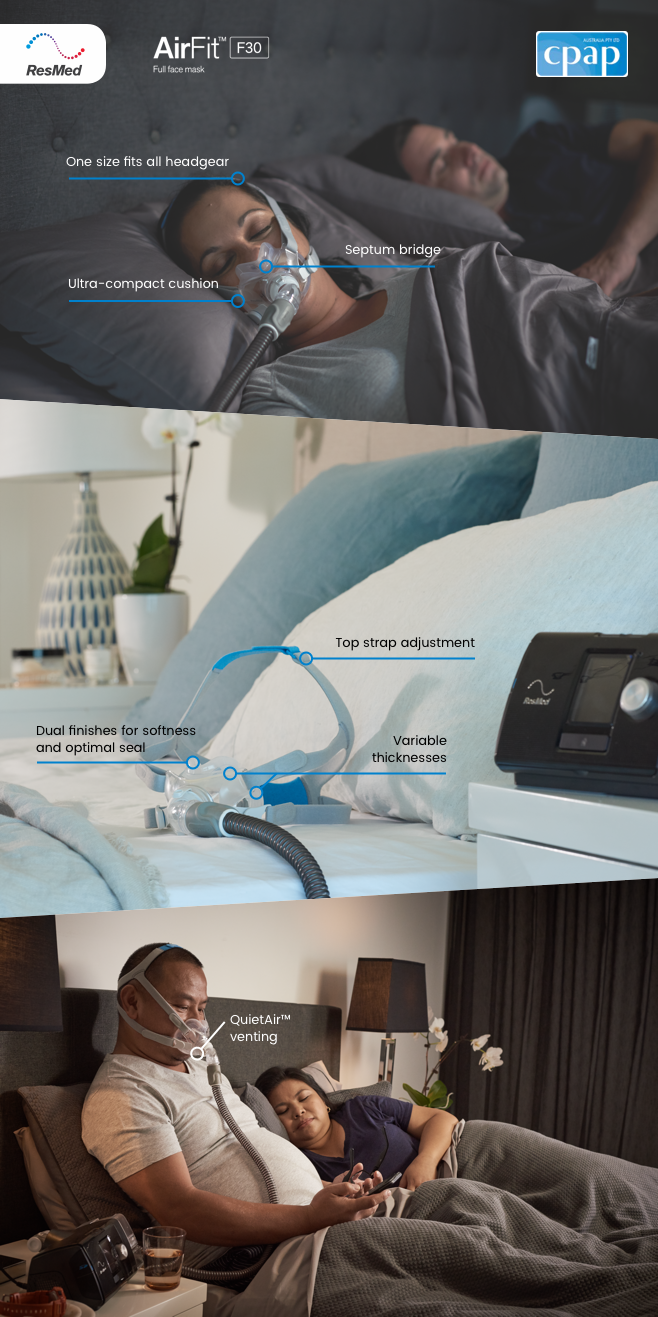 The ResMed AirFit F30 offers you so many benefits through its innovative minimal contact design:
Less contact with your face

The ultra-compact cushion sits lower on your face, freeing up the nasal bridge area which prevents red markings from pressure and discomfort. This setup offers you far less facial contact compared to previous full-face masks, which helps you to see more and even wear glasses.



A quieter sleep

The addition of the Quiet Air™ diffused venting system gently diffuses exhaled air to minimise noise, facilitating a more peaceful sleep for you and your partner.



A perfect fit for comfort

One-size-fits-all headgear contours to your unique face structure and then uses magnetic clips to help with quick and easy fitting.



Complete flexibility in and out of bed

But one of the best features is the quick-release 360° elbow which not only allows for a greater range of movement while you're sleeping, it also allows you to disconnect your headgear from the CPAP machine.

This means that if you need to get up during the night to get a glass of water, attend to a child or go to the bathroom, you don't have to take the mask off and put it back on again each time you leave the bed.

Interested in the AirFit™ F30?
At CPAP Australia, we always want you to feel well-informed to help you make the best decision about your CPAP therapy.
See our AirFit™ F30 product page for more information, including pricing.
Or, feel free to contact us to discuss this mask with you and see if it's a suitable option.