The whole point of seeking out CPAP therapy is to reduce symptoms and improve the quality of your sleep. If you're being disturbed by an uncomfortable mask or are just looking for a change, it might be time to consider switching to the ResMed N30i.
Common issues about CPAP masks include:
Being forced to sleep on your back

CPAP tubing that interferes with natural movement during sleep

Poor seal quality decreasing the effectiveness of the therapy

Complicated mechanisms making it difficult remove the mask

It's a chore to fit and clean

Mask size and orientation making it difficult to sleep next to a partner

Red marks on the face after use
A new innovation in CPAP masks from ResMed

30 years ago, the team at ResMed developed the first-ever CPAP machine.
Today, they're continuing to innovate with the introduction of the ResMed AirFit™ N30i, their first ever nasal cradle CPAP mask to feature a revolutionary "tube-up" design.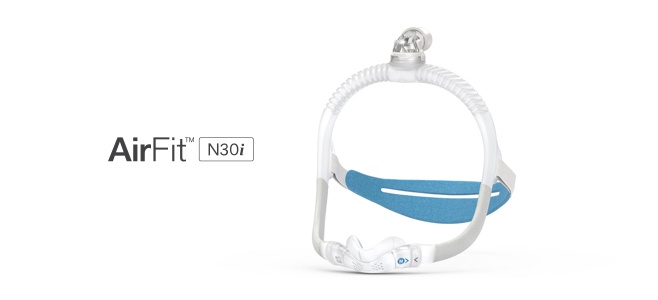 Why go tube-up?
Unlike other CPAP masks, which are designed with a tube coming down from the front of the mask, the ResMed AirFit™ N30i features a "top-of-the-head" tube design. In this system, air is delivered from the CPAP machine down through the frame to the nose.
The "top-of-the-head" tube design puts the majority of tubing behind you, giving you the freedom to sleep in any position, including on your front or side. In addition, you can get closer to your partner without tubing getting in the way! You can even wear your glasses to read or watch tv in bed!
The elbow connection at the top of the head is designed to rotate 360º, giving you even more freedom of movement. Whether you toss and turn at night or simply want to sleep on your front or side, the AirFit™ N30i is a must-try solution.
Don't let your CPAP mask keep you down
Do you ever have to get up in the middle of the night to go to the bathroom, get a glass of water, or check on a child? Taking your mask all the way off isn't necessary for these quick trips, and re-adjusting it is a pain, especially when you're tired. However, many masks don't offer simple methods for connecting and disconnecting the mask from the tubing.
The ResMed AirFit™ N30i uses a quick-release elbow that connects the tubing to the mask uses a pinch clip mechanism, making it super simple to connect and disconnect. With the AirFit™ N30i, getting up without taking off your mask takes hardly any effort.
This universal connector will work with a variety of devices, not just those manufactured by ResMed. However, this mask is not currently compatible with the ResMed AirMini™.
Adjust once for all-night comfort
The ResMed AirFit™ N30i features a SpringFit frame that adapts for a stable and personalised fit. It's quick to fit and stays comfortably in place all night, even if you toss and turn. 90% of trial users found the AirFit™ N30i very easy to fit and adjust.1
The AirFit™ N30i mask is available in two different sizes for different face shapes — use the fitting guide to determine which is right for you.
The septum bridge membrane ensures an intuitive fit and provides a stable seal2 all the way to the tip of the nose, no matter how much you move around.
Individuals who tried the AirFit™ N30i have loved it and would take it home as their mask of choice.2 Is it time for you to make the switch? BUY NOW
---
References
1 ResMed external 7 days clinical study of existing 24 ResMed and non-ResMed patients, conducted between 21/02/2018 - 12/03/2018. Data on file; ID A4320645.
2 ResMed external fitting study of existing 37 ResMed and non-ResMed patients, conducted between 09/04/2018 - 20/04/2018. Data on file; ID A4327753.