Your CPAP Mask plays an important part of your daily Sleep Apnea therapy by delivering the pressurised air from your CPAP Machine to keep your airways open during the night. This helps you get a better quality sleep and experience the health benefits that this brings.
CPAP masks come in different types and different sizes across all brands, and the one that you choose should be based on personal preferences to suit your needs.
The Different Types of Masks
There are three main categories of CPAP Masks:
Full Face

Nasal

Nasal Pillow
As the name implies, a full face mask rests over your nose and mouth with the assistance of headgear, making it more stable and allowing you to breathe through both throughout the night.
However, if you prefer something smaller and less obtrusive, the nasal mask covers your nose to deliver air directly through your nasal passages.
The nasal pillow mask is the lightest and quietest of all three, and sits at the entrance of your nostrils, creating a seal with pillow-like cushions.
Each mask has its own design, benefits and use, and you should discuss these with your Sleep Professional, as it's important for the success of your treatment to be as comfortable as possible.
Below are five of the most popular and latest Masks to help you choose.
Full face Mask:

ResMed AirTouch F20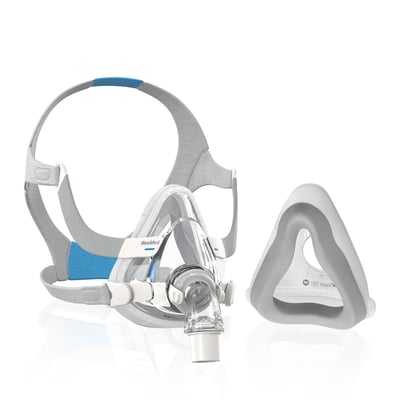 Designed to be light, unobtrusive and easy to use, the AirTouch F20 is the first ResMed mask to use UltraSoftTM memory foam cushion technology for the perfect blend of comfort and performance. With a soft flexible frame and magnetic headgear clips, it delivers you unprecedented comfort even at high pressures, by featuring a breathable vented seal and quick release mechanism.
Its modular frame design allows you to discover the best option to suits your needs, by providing you with the ability to conveniently switch between AirTouch F20 memory foam and AirFit F20 InfinitySealTM cushions, without removing the mask frame.
With the AirTouch F20 Mask, the range of fit and ease of use is everything you've come to expect from a quality ResMed product, however the seal performance and comfort is what sets it apart further.
Designed for maximum comfort and use, the AirTouch F20 Mask may be exactly what you've been looking for to help you get the best night's sleep when resting your head down on your pillow.
You can find more information and purchase this mask here: ResMed AirTouch F20.
Full Face Mask:

Fisher & Paykel Simplus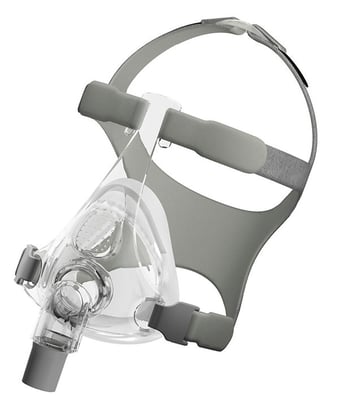 The Simplus full face mask is simple and effective in its design, being made up of only three main parts: headgear, the frame and the cushion. Because of this, it's easy to fit, easy to use and simple to clean.
You can find more information and purchase this mask here: Fisher & Paykel Simplus