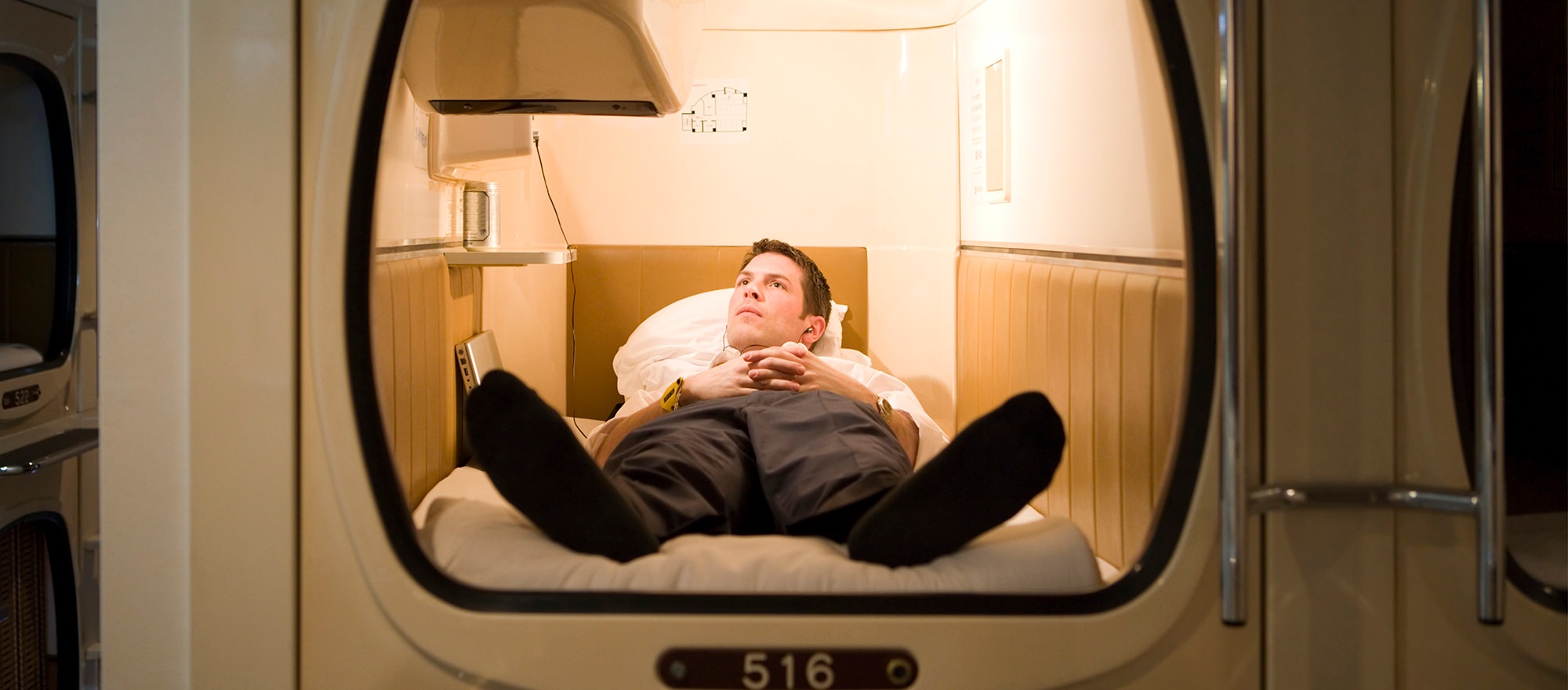 Think of a good night's sleep and we imagine crisp sheets, fluffy pillows and a restful and refreshing slumber. Most of us will imagine our own bedrooms, or perhaps a classy hotel with an expansive bed and a mattress that feels more like a cloud.
But for more adventurous types, a good night's sleep can mean something entirely different. From treehouses to converted prison cells, our love of sleep has seen the emergence of some weird, wonderful and downright wacky hotels that promise a great night's sleep in less-than-typical locations.
Yet at CPAP Australia, we're all too aware that sometimes not even the world's most adventurous or luxurious locations can guarantee great sleep, even for those already receiving sleep therapy. If you're concerned that your therapy isn't giving you the sleep you need, request a check up at your nearest CPAP Australia store.
With the right treatment, even you can explore some of the world's strangest hotels and get a good night's sleep.
Here's a list of the world's weirdest and most wonderful places to sleep, from Australia and abroad:
1. The Ultimo, Sydney, Australia
This is the world's first astrology hotel. The Ultimo offers astrology packages that align you with your zodiac sign. They are even pet friendly!
2. Palacio de Sal, Uyuni, Bolivia
The Palacio de Sal – 'Salt Palace' – on the salt flats of Uyuni, is completely constructed from salt, including most of the furniture!
3. Wollemi Wilderness Treehouse, Blue Mountains, Australia
Live like birds in the treetops with stunning views of Bowen's Creek Gorge and the Blue Mountain rainforest.
4. Icehotel, Jukkasjärvi, Sweden
Sweden's famous Ice Hotel, remade every November from ice sourced from the frozen Torne River fused with snow (locally known as 'snice'). New themed suites are designed every year.
5. Notel, Melbourne, Australia
Go retro in this hotel made up exclusively from a collection of luxury '70s Airstream caravans sitting atop a car park.
6. Capsulevalue Kanda, Tokyo, Japan
Originating in Osaka, the capsule hotel is a popular concept in Japan. Stacked side by side and on top of one another to maximise on space, you can have your very own capsule at a very reasonable price.
7. Jamala Wildlife Lodge, Canberra, Australia
Enjoy wildlife up close and personal with lodgings that allow animals to come right up to your windows.
8. The Hobbit Motel, Woodlyn Park, Waitomo, New Zealand
These Lord of The Rings-inspired rooms invoke homely charms suitable for the most discerning of hobbits – and humans!
9. Hatter's Hideout, Bell, Australia
Enjoy panoramic view and the lush, cool temperatures of the rainforest – or if you're feeling a little more adventurous, why not stay in a luxury cave?
10. The Manta Resort, Pemba Island, Tanzania
The Manta Resort in Tanzania has its very own Underwater Room. The floating structure has three levels, including a roof which is perfect for launching off into the sea.
Yet sleep disturbances and sleep disorders shouldn't stop you from joining the fun that many boutique hotels around the world are providing. If you're already receiving therapy but just can't get some decent shut-eye, it might be the perfect time to book a CPAP check up and have your equipment tested. Before too long you might find yourself at one these hotels settling in for a great night's sleep!